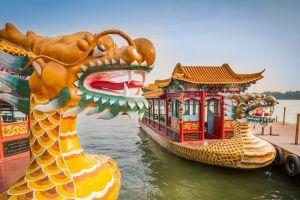 Beijing is officially China's top blockchain city, per official rankings, but second city Shanghai placed third behind Shenzhen, the nation's fastest-growing blockchain hub.
These were the findings of a special session at the China International Fair for Trade in Services, the first large-scale international economic and trade convention to be held in China since the corona-virus pandemic struck late last year.
The conference, also known as the Beijing Fair, hosted a "Global Fintech Blockchain Summit," where 83 Chinese cities were given a ranking score out of 100 on their blockchain progress.
The organization dubbed the tables the "2020 Chinese Blockchain Innovation Rankings".
According to the state-run media outlet Finance.China.com, the rankings were based on "multiple sources" and "objective data" – which it sadly did not expand upon.
The organizers ranked the cities on their blockchain R&D infrastructure, their level of blockchain industry development, the public popularity of local blockchain-powered offerings and city-level policy.
Propping up the top 50 was Jiujiang, in Jiangxi Province, which scored under 36 out of 100.
But further up the list, Beijing scored a near-perfect 99.82 at the top of the pile, with Shenzhen, the nation's de facto center of gravity for all things blockchain-related garnered a score of 91.2. The city is home of over 5,000 blockchain-related firms, per recently released figures.
Shanghai, one of East Asia's biggest business capitals, lagged behind with just under 88%.
Rounding out the top five were Hangzhou with an 86.5% score and Guangzhou with just under 77%.
The report's authors noted that Beijing and Shanghai benefited from massive natural advantages in R&D, industrial development and public awareness, a fact that allowed them to score so high.
The capital also topped the individual rankings in all but one category – local policy – where it was beaten to the top spot by Chongqing, which scored a perfect 100/100 in this field.
Original title: China Unveils Inaugural Blockchain City Rankings
Disclaimer
The views expressed in this article are the author's own and do not necessarily reflect the view of Amber Group. Amber Group shall not be held liable under any circumstances for any losses, damages or expenses arising from the use of any content mentioned in this article.
The information contained on this website is provided for informational purposes only, with no warranties, or guarantees made as to the accuracy, completeness or timeliness of it. Amber Group assumes no liability or responsibility for any errors or omissions in the information contained on this site. We strongly encourage you to conduct your own research before taking any action.
This site may contain copyrighted material, the use of which has not always been specifically authorized by the copyright owner. If you wish to use the copyrighted material from this site for the purposes of your own that go beyond 'fair use', you must obtain permission from the copyright owner. Authors or publishers who claim ownership of copyrighted articles reprinted on this website and wish for the content to be removed may email us directly at official.accounts@ambergroup.io
If you would like to connect with us about any of the distributed content or other inquiries, please email us at official.accounts@ambergroup.io with the relevant documentation.